Nicaragua:

the story of the Daniel Ortega-Rosario Murillo regime
by Eric Toussaint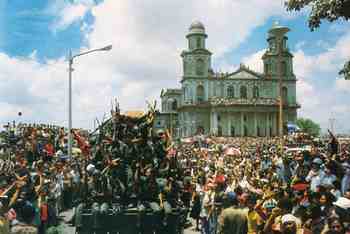 The violence against demonstrators protesting against brutal neoliberal policies is just one of the reasons why different social movements have condemned the Nicaraguan regime led by Daniel Ortega and the Vice-president Rosario Murillo. The left has many more reasons to denounce the policies of the regime. To understand this, we must go back to 1979.
An authentic revolution in 1979
On 9 July 1979, an authentic popular revolution triumphed over the dictatorial dynasty of the Somoza regime. The Sandinista National Liberation Front (in Spanish - Frente Sandinista de Liberación Nacional-FSLN) played a fundamental part in the victory thanks to its role in the armed struggle, its political initiatives and its capacity to represent the aspirations of the people. Nevertheless, the FSLN would never have won out against the dictatorship without the immense mobilization of the majority of the Nicaraguan population. Without the courage and abnegation of the people, the Somoza dictatorship, supported by Washington for several decades, could not have been decisively overthrown. Support from Cuba also had a decisive effect.