A Survey of Comintern Auxiliary Organizations – Part 8:
The Red Sports International (1921–1937)


Harnessing Recreation to the Revolution
by RIDDELL John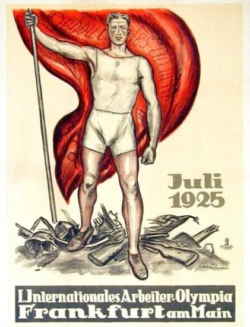 On 23 June 1921, a gathering of about 20 Communists in Moscow founded an international association to unify "revolutionary proletarian sports and gymnastics organizations … into support centers for the proletariat in its class struggle."[1]
Merging sports and class struggle on a global scale? A tall order, to be sure. But the 1921 Moscow initiative rested on two solid pillars: the traditions of the prewar Second International and the achievements of the young Soviet republic.
The Moscow consultation on sports brought together delegates from eight countries who happened to be attending the Third World Congress of the Communist International then in session. However, the initiative came not from the Comintern but from Nikolai Podvoisky, head of the Soviet Council for Physical Culture, an agency charged with preparing Soviet youth for military conscription.[2]